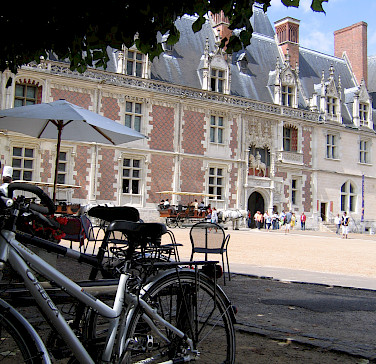 To some Americans, biking in Europe is a daunting idea. They are used to only getting on their bikes for a few hours on a weekend, pedaling slowly with their toddlers on training wheels, or a leisurely ride up a safe and secure bike path on a Sunday morning.
But to Europeans, bikes are something they use every day. They use bikes like we use cars–and the culture is overwhelmingly more bike friendly, and more used to seeing travelers taking bikes on long trips.
They take bikes much more seriously than we do, and that's why Europe is the perfect place for you to expand your bicycle horizon beyond the Sunday pedal. How about a week's worth of biking in the beautiful Loire Valley of France, or across beach resorts in Croatia?  How about challenging yourself with a ride through the Alps?
One thing that most travel experts like Rick Steves agree on, is that there is almost no better way to get to know the landscape and to get close to the locals than by the un-intimidating status of a bike rider.
As Rick has written, though, all of Europe's cities haven't reached the same level of bike friendliness as the best ones like Copenhagen and Florence. In these cities, bikes have the same status as cars, so there are traffic lights, designated bike lanes, and best of all, a culture that sympathizes with the size and vulnerability of bike riders compared with cars and trucks. Sadly, cities like Rome and Athens are far behind and today, nobody would consider extensive bike riding in either of those two cities–yet.
Rick also recommends finding a reputable bike tour operator and setting up a bike tour before you get to Europe. You could bring your own bike but you'd probably pay around $300-400 to the airline to fly your bike over, and then you'd have to worry about tools and keeping the bike in repair should something break.
It's overall a better idea to let a company that has a good reputation take care of getting your luggage to the next stop, deal with all of the bike maintenance, and most of all, showing you the sites in each city that the guides have seen for themselves. Overall, if you can combine a tour with the pleasure of bike riding, you're gonna have a blast!